Kuala Lumpur City Hall (DBKL) has taken a decisive step by issuing a circular that enforces a ban on room partitions (bedroom additions) in commercial-titled apartments with strata status under its jurisdiction in Kuala Lumpur. Effective since August 1, 2023, the circular is directed to the chairman of all Joint Management Bodies (JMB), Management Corporations (MC), and Sub Management Corporations (Sub-MC) in the Federal Territory of Kuala Lumpur.
In the circular, Kuala Lumpur Mayor Datuk Kamarulzaman Mat Salleh outlined the reasons behind this prohibition. The primary rationale is that the creation of new bedrooms through the conversion of living rooms and dining areas would increase the total number of rooms within an apartment or Small Office Home Office (SOHO) unit. Such modifications would contravene the original Development Order (DO) sanctioned by the relevant authorities, including DBKL.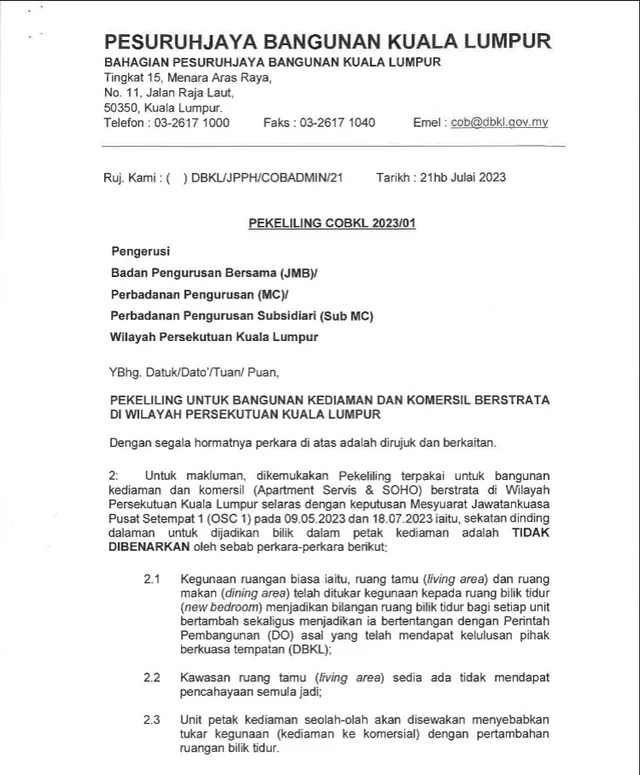 Another significant consideration is that the addition of bedrooms could lead to inadequate natural light reaching the living spaces, while simultaneously raising the overall occupancy count within a unit. Kamarulzaman pointed out that this practice might give the impression that units are being sublet for additional income.
The prohibition also aims to deter the emergence of residential units designed for commercial use, potentially resembling hostels, and to mitigate potential issues related to heightened traffic and population density that could adversely affect nearby residents.
The circular, issued on July 21, 2023, is accessible for download on DBKL's official website. This measure underscores Kuala Lumpur City Hall's commitment to upholding urban planning regulations while preserving the quality of living spaces in the city's commercial-titled apartments.