The 486-acre former Royal Malaysian Air Force base in Sungai Besi, which is just a 15-minute drive to the Kuala Lumpur city centre, is being redeveloped into Bandar Malaysia under a public-private partnership model.
However, the process of selecting a master developer has not been a smooth one. The development agreement with the initial master developer — a consortium comprising Iskandar Waterfront Holdings Sdn Bhd and China Railway Engineering Corp (M) Sdn Bhd — has lapsed and the Ministry of Finance recently issued a new request for proposals to fill the role.
Despite the delay, Bandar Malaysia is seen as a game changer for the area due to its planned public transport network. It will have two mass rapid transit (MRT) Line 2 stations and will be one of the stops on the Kuala Lumpur-Singapore high-speed rail (HSR) line.
A beneficiary of the mega project is Chan Sow Lin, its low-profile neighbour located off Jalan Sungai Besi. The area is slowly being transformed, thanks to heightened interest from developers, and has seen a rise in property transactions and new projects.
Transformations
Jalan Chan Sow Lin cleaves the area into an east and a west side, bounded by Sungai Kerayong and Jalan Sungai Besi respectively.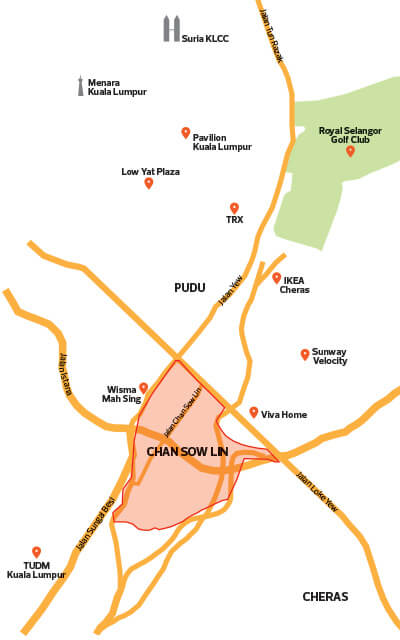 Named after one of the founding fathers of modern Kuala Lumpur, it has a mix of leasehold and freehold land. Landmarks include Percetakan Nasional Malaysia Bhd's premises, the Chan Sow Lin light rail transit (LRT) station and Southgate Commercial Centre.
Datuk Ganesan, chairman of the Kuala Lumpur Wilayah Persekutuan Chan Sow Lin landowners and businessmen association, says the area has seen much transformation over the past 20 years, with various land acquisitions for infrastructure purposes.
Ganesan — who is also the executive chairman and director of Revolution Glory Property Sdn Bhd, which mainly deals with land-related matters — owns several parcels, with a total size of eight acres, in Chan Sow Lin.
With the lifting of the height restriction for buildings following the relocation of the airbase, he has seen approvals given for properties with more than 50 floors. This provides more flexibility in planning future developments.
"Most of the land on the west side has been converted from industrial to commercial status, while the east mainly remains industrial land. We believe these will be converted into commercial land sooner or later," says Ganesan.
Chan Sow Lin is now home to many 3S (sales, service and spare parts) and 4S (sales, service, systems and spare parts) centres for brands such as Peugeot, Mitsubishi, Hyundai-Sime Darby, Naza Kia and Proton Edar.
There are various ongoing and upcoming developments, including the 14-storey hybrid commercial hub The Trax — jointly being developed by Insan Tiara Sdn Bhd and Utusan Melayu (M) Bhd — and apartment project One Residences Kuala Lumpur by Akisama Group as well as mixed-use development Trion Kuala Lumpur by Binastra Land Sdn Bhd.
City & Country went to the rooftop of Wisma Mah Sing — the headquarters of property developer Mah Sing Group Bhd, which is located diagonally across from Southgate Commercial Centre — to get an aerial view of Chan Sow Lin. From there, one can see new projects sprouting between the old industrial buildings.
KGV-Lambert Smith Hampton (M) Sdn Bhd director Anthony Chua says Chan Sow Lin is one of the oldest industrial areas in Kuala Lumpur. "With practically no new industrial properties being built in Kuala Lumpur, demand for industrial properties here has always been high."
The stock stands at 5,138 units as at the first half of last year and there is no incoming supply, according to data from the National Property Information Centre.
Land prices in Chan Sow Lin have shot up, says Ganesan. He adds that land there now cost more than RM500 psf, compared with RM250 to RM300 psf in 2012, about RM130 psf in 2007 and 2008, and RM50 psf in 2003 and 2004.
While property consultants are envisioning a transformation for the area — from an industrial enclave into a modern neighbourhood — it will probably take some time for the change to happen as the lots are owned by different owners. The future development of Chan Sow Lin, they believe, may be more on a piecemeal basis rather than an integrated one.
PA International Property Consultants (KL) Sdn Bhd managing director Jerome Hong says land fronting Jalan Sungai Besi is categorised under "neighbourhood centre commercial or mixed use commercial" with a plot ratio of 1:2 and 1:6 respectively, according to the Kuala Lumpur Structure Plan 2020.
"There are also plans by Dewan Bandaraya Kuala Lumpur to transform Chan Sow Lin into the city's state-of-the-art automobile business park, housing companies supplying parts to businesses associated with the automobile industry, such as accessory dealers, car showrooms and vehicle-servicing workshops. The transformation of Chan Sow Lin continues, albeit at a slower pace, amid the slowdown in the economy and prevailing slow property market condition," says Hong.
According to Ganesan, Chan Sow Lin has seen land acquisitions in the past for the construction of the Stormwater Management And Road Tunnel (SMART Tunnel), Maju Expressway and Besraya Expressway.
Upcoming land acquisitions there will be for the development of the MRT Line 2 and Duta Ulu-Kelang Expressway Phase 3 (DUKE 3), he says, adding that land acquisitions for DUKE 3 will affect the first row of properties facing Jalan Chan Sow Lin and some properties in Jalan Empat. Part of DUKE 3 will run on Jalan Chan Sow Lin and Jalan Empat.
Catalysts
Hong believes Bandar Malaysia is one of the catalysts for the redevelopment of Chan Sow Lin as the former is planned as a world-class, sustainable city within a city that offers quality living next to a vibrant international business hub — the Tun Razak Exchange (TRX) — and a tourism and lifestyle destination.
The 70-acre TRX is another catalyst for the area, he says. Located 2km from Chan Sow Lin, the mixed-use development will feature world-class residential, retail, leisure and cultural offerings. Upcoming components include the 17-acre Lifestyle Quarter — a retail-led mixed-use development by Australian property and infrastructure group Lendlease Corp (which has a 60% stake) and TRX City (40%) — and the Signature Tower by Indonesia's Mulia Group.
Hong remarks that these two mega projects will bring in the most important catalyst — infrastructure. A network of infrastructure and public transport will be put in place to support the developments.
There are plans to develop Bandar Malaysia into a transit-oriented development to provide seamless integration between the MRT, KTM Komuter, Express Rail Link and HSR lines.
"HSR will have its terminus at Bandar Malaysia while TRX will boast Kuala Lumpur's largest MRT station. The existing Chan Sow Lin LRT station will be integrated with the MRT Line 2 in the future, and it is located only one stop away from TRX. This is positive for Chan Sow Lin as with improved connectivity, more potential house buyers and investors may be attracted to developments in the area," says Hong.
Besides its proximity to the Kuala Lumpur city centre and the availability of public transport, Chan Sow Lin is also easily accessible via various highways and roads, such as the Maju Expressway, Besraya Expressway, Jalan Sungai Besi and Jalan Loke Yew. Furthermore, it will be linked to the upcoming DUKE 3.
As the 35km expressway will serve areas such as Wangsa Maju, Setiawangsa, Ampang and TRX, Hong says it will improve future accessibility and connectivity to the Chan Sow Lin area, providing alternative routes as well as reducing the travelling time and increasing the visibility of its surrounding areas.
Hurdles
The two main issues that landowners at Chan Sow Lin are facing are compulsory land acquisitions and the difficulty in extending their lease, says Ganesan. The association aims to assist them in dealing with these issues.
Hong explains that the majority of parcels and properties in the locality have short leasehold tenure of about 60 years, and the extension of leases incurs additional development costs.
"Also, there are additional costs to convert the existing land use from 'industry' to 'building', with express conditions for residential, commercial and mixed-use developments. The plot ratio of 1:2 and 1:6 as per the KL Structure Plan 2020 for land fronting Jalan Sungai Besi is also low."
Another setback is that the parcels are generally small, measuring about one to two acres each, Hong says. It can be difficult to acquire a few adjoining lots to amalgamate for redevelopment as they are owned by different people, he points out.
"Furthermore, due to the area being an industrial zone, potential redevelopments there have to be on a piecemeal basis. There is no master-plan layout for the entire area and thus, upcoming residential and mixed-use projects may neighbour existing industrial premises, workshops or 3S and 4S centres."
The narrow roads and their poor condition are also issues worth noting. Chua says the area's accessibility needs to be improved due to the potential increase in population following its redevelopment.
Future prospects
Moving forward, property experts believe the transformation of Chan Sow Lin will continue, with various types of developments to come up. They expect the area to grow as Bandar Malaysia progressively takes shape.
Chua expects immediate projects there to be condominiums, serviced apartments and small office/home office (SoHo) units.
"Flatted factories or storage facilities are also a possibility in view of the current usage of the land and its proximity to the city centre," he says.
Meanwhile, Hong says mixed-use developments — serviced apartments, SoHo, commercial and retail units as well as offices — will be suitable to cater for the local population and business community.
"First-time homebuyers and investors may be attracted to the locality as well due to the affordable housing choices at the city fringe, supported by excellent public transport links," he adds. "More developments are expected with the scheduled completion of MRT Line 2 in 2021/22 and the progress at Bandar Malaysia and TRX. New and modern developments will rejuvenate the area and raise the price point and quality of product offerings."
Source: TheEdge