ECA International's recent cost of living analysis places Kuala Lumpur as the 35th most expensive city in Asia and 175th on a global scale for expatriates. Other Malaysian cities, including George Town, Kota Kinabalu, and Johor Bahru, saw a slight drop in their rankings, securing 189th, 195th, and 198th positions, respectively.
Lee Quane, ECA International's Asia Regional Director, attributes the drop in rankings for many Asian locations to lower inflation rates compared to other researched regions. He highlights that major surveyed locations in Asia have seen ranking drops, indicating comparatively lower living costs for expats in these cities over the past year.
Conversely, Singapore climbed in the rankings due to a significant surge in rents in 2022, widening its lead over other Asian cities. Quane noted Singapore's remarkable rise, marking its debut in the top five as the world's fifth-most expensive location for expats. This rise primarily resulted from swift growth in accommodation costs due to an unmatched increase in rental demand and available supply.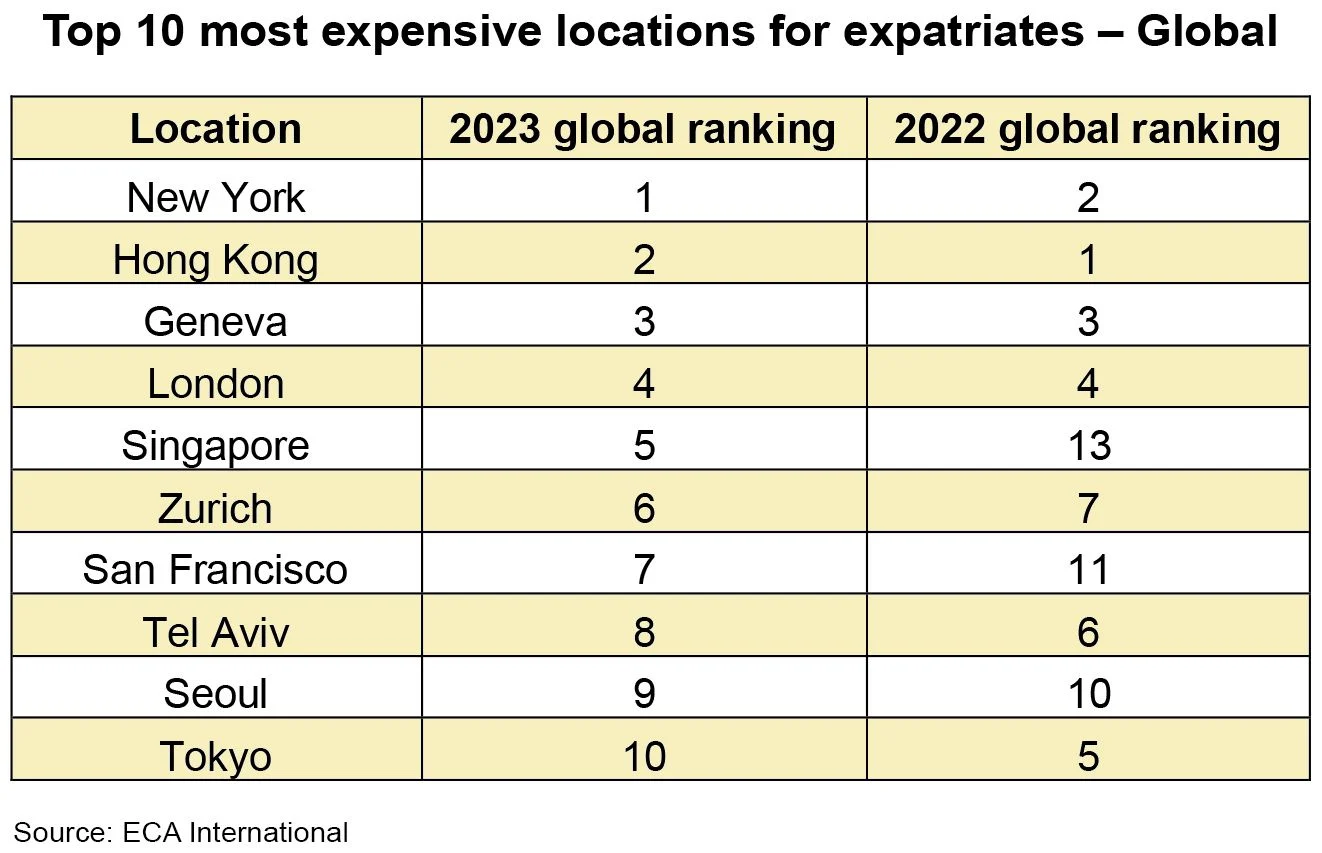 Quane added that Seoul and Yangon were exceptions, with Seoul rising to ninth and Yangon moving up four places to 167th. Both cities' rise contrasts the general downward trend in Asia, driven by significant accommodation cost increases in Seoul and socio-political issues causing inflation in Yangon.
The report shows Bangkok, the region's second most expensive city after Singapore, dropping 13 places to rank as the world's 60th most expensive location. Other cities like Manila and Jakarta also dropped in their rankings due to weak local currencies despite moderately high inflation rates.
Surprisingly, Hong Kong fell from the top spot to the second most expensive location worldwide, surpassed by New York. Although costs for goods and services soared, Hong Kong's ranking dropped due to decreased accommodation costs.
Chinese cities also slid down the rankings due to a weaker yuan and lower inflation rates. Cities like Shanghai and Guangzhou maintained their expensive status within China but fell out of the global top ten. Quane attributes this fall to China's delayed emergence from COVID-19 restrictions.
Finally, Tokyo, a consistent top five contender in the past five years, fell to tenth place, making it a relatively cheaper location compared to recent years.