Malaysia's Prime Minister, Datuk Seri Anwar Ibrahim, disclosed that the country's actual development expenditure (devex) has been consistently shrinking each year, despite incremental increases in budget allocations. Anwar made this revelation following a National Economic Action Council meeting, emphasizing that this decline in actual devex could pose a significant long-term impact on Malaysia's economic growth. However, specific details regarding the meeting's findings were not provided in the statement.
Examining Malaysia's recent annual budgets, the allocation for devex in Budget 2024 was RM90 billion, compared to RM97 billion in Budget 2023, RM71.57 billion in Budget 2022, RM64.26 billion in Budget 2021, and RM51.36 billion in Budget 2020.
Anwar also highlighted that the implementation of development projects facing challenges and delays has led to increased costs and negative repercussions for economic growth. He noted that accurately determining specifications and evaluating costs for Information and Communication Technology (ICT) projects has proven difficult, contributing to repeated work duplication and higher ICT project expenses.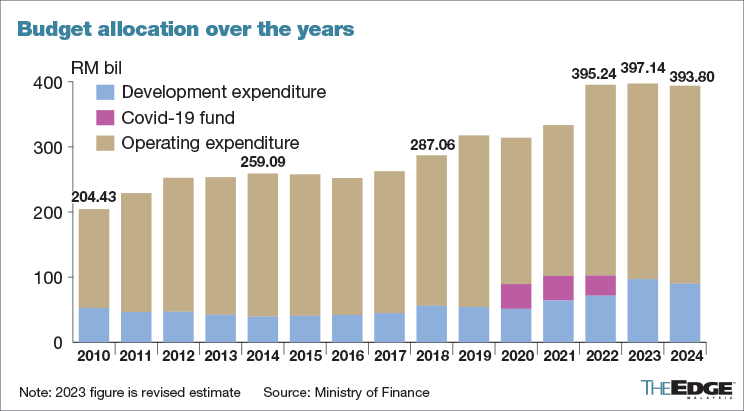 In response to these issues, Anwar outlined several immediate policy measures to enhance the implementation of devex projects. These measures include the formation of a cross-ministerial team to review and establish an improvement framework, decentralization of project implementation to implementation agencies with stringent governance, and centralization of the implementation and cost determination of ICT projects under the Malaysian Administrative Modernization and Management Planning Unit.
Addressing concerns about the weakening ringgit, Anwar expressed confidence that the currency's performance, which has been affected by expectations of prolonged higher US interest rates and geopolitical factors, would not significantly impact Malaysia's growth prospects. He emphasized the government's structural reform efforts, including initiatives outlined in the New Industrial Master Plan (NIMP) 2030 and National Energy Transition Roadmap (NETR), as key drivers of Malaysia's competitiveness. These efforts are expected to enhance the country's appeal to foreign investors and contribute to a more sustainable strengthening of the ringgit's value.
Anwar also assured that Bank Negara Malaysia is committed to mitigating excessive volatility in the ringgit exchange market to maintain orderly conditions. As of the latest data, the ringgit had depreciated to 4.6550/6600 against the US dollar, compared to the previous day's closing rate of 4.6340/6400.