The general reaction towards the government's new Premium Visa Programme (PVIP) is positive but an academic feels that there is "confusion" over how Putrajaya wants to attract wealthy foreigners to invest and reside in the country.
"Well, my hope is that the introduction of the new programme is a way to reform MM2H and to make it less stringent, as the requirements for this PVIP programme are already quite high," said Center for Market Education CEO, Dr Carmelo Ferlito.
"Second, I think it is misleading to call these eventual new applicants 'investors'. Investors usually set up businesses of a certain dimension and, if the aim is to attract economic initiatives, there should be a distinction between the business features and the net worth of the business owner. Therefore, I think there is confusion on this regard," he added.
Announcing the PVIP last week, Home Minister Datuk Seri Hamzah Zainudin revealed that the initiative is meant to attract wealthy foreigners to invest in Malaysia and reside in the country for a period of 20 years.
He said the "Residency Through Investment" programme, the first of its kind introduced by the government to drive the country's economic growth, would be open for applications from Oct 1, 2022.
Hamzah said the programme was available to all participants of all age categories with proof of having an offshore income of at least RM40,000 per month, or RM480,000 annually.
Among other conditions is to have a fixed savings account with a deposit of at least RM1 million, with no withdrawals allowed on the principal value for the first year, while up to a 50% withdrawal from the principal value will be allowed after that for the purchase of real estate, or health and education purposes.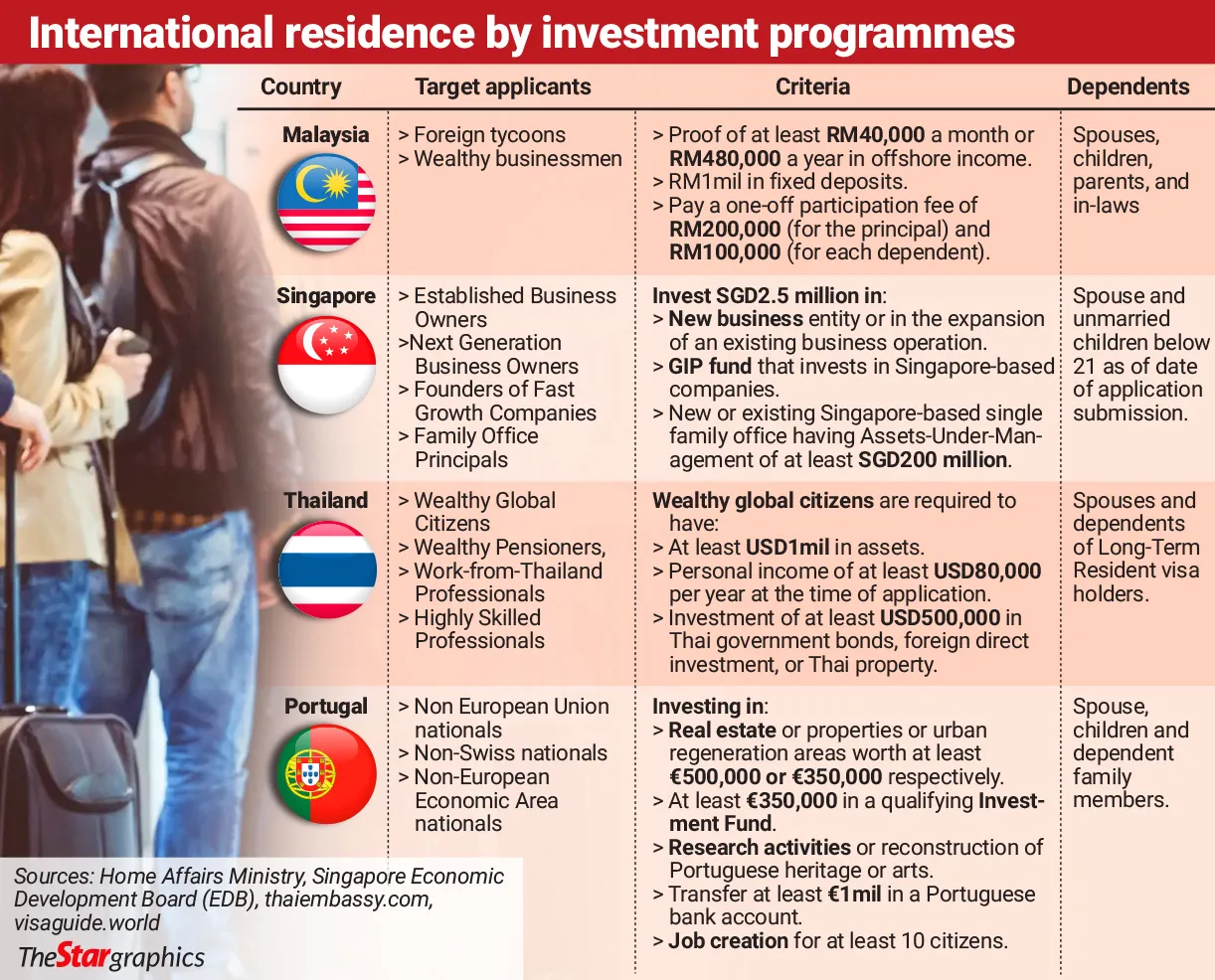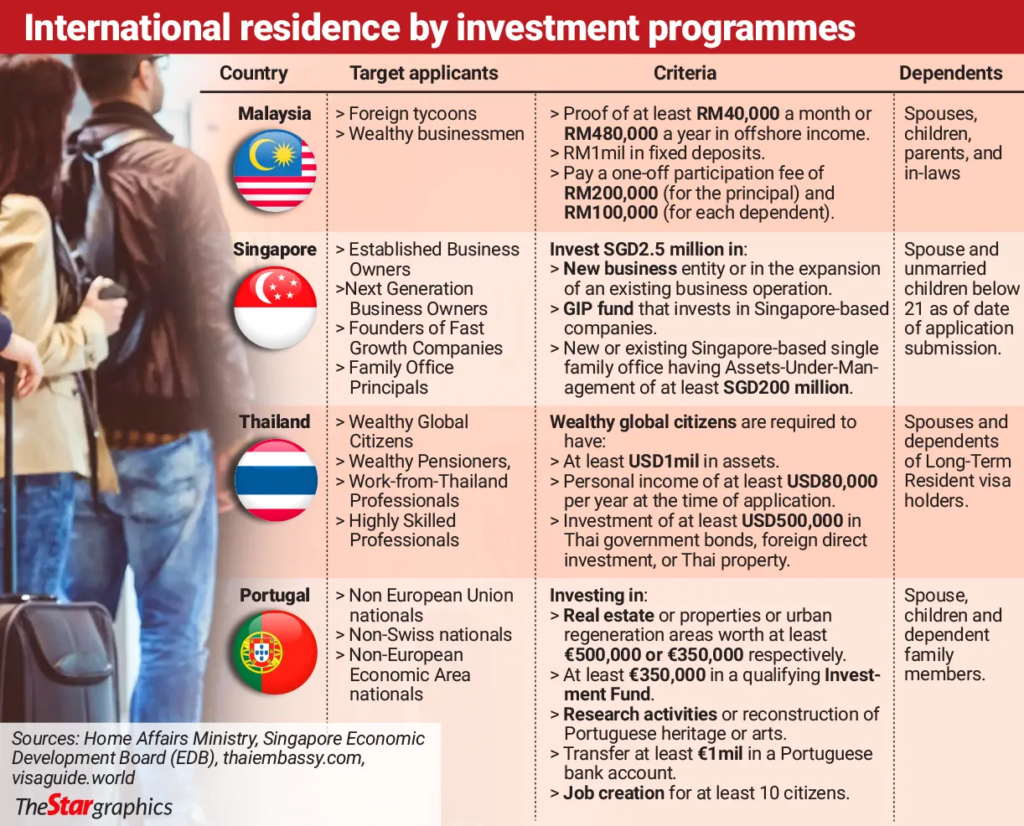 Successful applicants can bring their spouses, children, parents, in-laws and domestic workers as dependents subject to existing immigration laws.
Hamzah added that applicants will have to pay a one-off RM200,000 participation fee while a one-off RM100,000 fee will be levied for each dependent.
Children of participants aged above 21 years are not considered dependents and have to apply to be a PVIP participant to remain in the country.
"The initial RM200,000 fee may be discouraging and again is in contrast with the idea of calling these individuals 'investors'. Usually, you do not ask investors to pay a fee for entering your country: you offer something so they can put money in businesses that create positive spill overs. This fee makes the programme more similar to MM2H than an actual plan to attract investors," explained Ferlito.
"Therefore, I guess there is a confusion with regard to the aims of the package. It is also not clear what Malaysia offers to these individuals apart from a 20-year visa," he added.
Ferlito said that "I think it remains very important to distinguish what it means to attract rich individuals and to incentivise business – these are two different things which require different approaches."
"I would suggest an extension of the Talent programme with an automatic bridge into MM2H after a certain number of years. This would be a programme that attract businesses and their managers and induce them to remain in Malaysia after they have completed their career paths," he added.
"A long-term strategy, in a nutshell, is to attract multi-national corporations and their managers to turn them into retirees later on, so as to create a long-term commitment to spend money in the country.
"We need to think about something that is attractive for individuals attached to businesses and therefore we need a double reform of both the incentive schemes for foreign direct investments and the long-term visas.
"The new programme looks just like a copy-paste of MM2H and I do not see how it can be attractive for 'investors'," said Ferlito.
Long-term security needed
Founder of the "Hongkongers in Malaysia" Facebook Group and MM2H Consultant, Gary Crestejo felt that attracting foreign investments and talents is a wise move by the government, as many other countries are doing the same after a long pandemic fight.
"The upfront participation fee of RM200,000 might seem high, but given a 20-year visa duration, some investors might find it acceptable, but in return they also need security on the programme terms because many are afraid the terms will change along the way and impact their relocation/investment plans," said Crestejo.
As for dependents, Crestejo explained that they are "usually big spenders or wingmen of the applicants' overseas businesses. The extra fee of RM100,000 per dependent might not be necessary, as it will only deter their decisions to come".
"If the PVIP's goal is to attract foreign investments, instead of 'allowing' investments, why not make investments a 'mandatory' requirement before granting a visa?
"Putting money into fixed deposits may not benefit the country much, not to mention that banks will need to pay them interest too, but if this money is put to real action, business transactions will certainly benefit the economy in many ways, be it by taxation of income, employment and other related spending," suggested Crestejo.
"A large number of people now make their fortunes online. There are indeed a lot of rich foreigners without a stable monthly income, but as long as the applicants can prove their wealth and guarantee their minimum investment amounts in Malaysia, the income requirement can be lowered and might not even be necessary," he added.
Meanwhile, Sunway University economics professor, Yeah Kim Leng, said the PVIP has good potential to attract foreign investors, including the successful entrepreneurs among the Malaysian diaspora.
"Other than the large global multinational companies that dominate the foreign direct and portfolio investment landscape, the premium visa programme will catalyse individual and small businesses, especially the technopreneurs to set up shop in the country.
"It will have a strong multiplier effect on local employment and income generation opportunities. Another potential spin-off is the increase in demand for office and residential property including rental," Yeah added.
In his announcement last week, Hamzah said his ministry is targeting at least 1,000 participants in the first year of the programme, which would provide an estimated RM200 million in revenue to the country, as well as RM1 billion in fixed savings.
"The Home Ministry is confident that this programme will be able to attract more foreign direct investment that will strengthen the economy and increase job opportunities for locals. In addition, demand for the Malaysian Ringgit will also increase, strengthening its value," he said.
He also gave his assurance that the Immigration Department and the police would carry out monitoring and enforcement to ensure that programme complied with its implementation policies and goals.
Source: Edgeprop