The government is levying higher ABSD (Additional Buyers' Stamp Duty) rates, in a bid to cool the property market that remains firm even with a dimmer economic outlook.
"The revisions to the ABSD rates to help moderate investment demand will complement our efforts to ramp up supply, to alleviate the tight housing market for both owner-occupation and rental," says the Ministry of Finance, Ministry of National Development, and the Monetary Authority of Singapore in a joint statement late in the evening of April 26.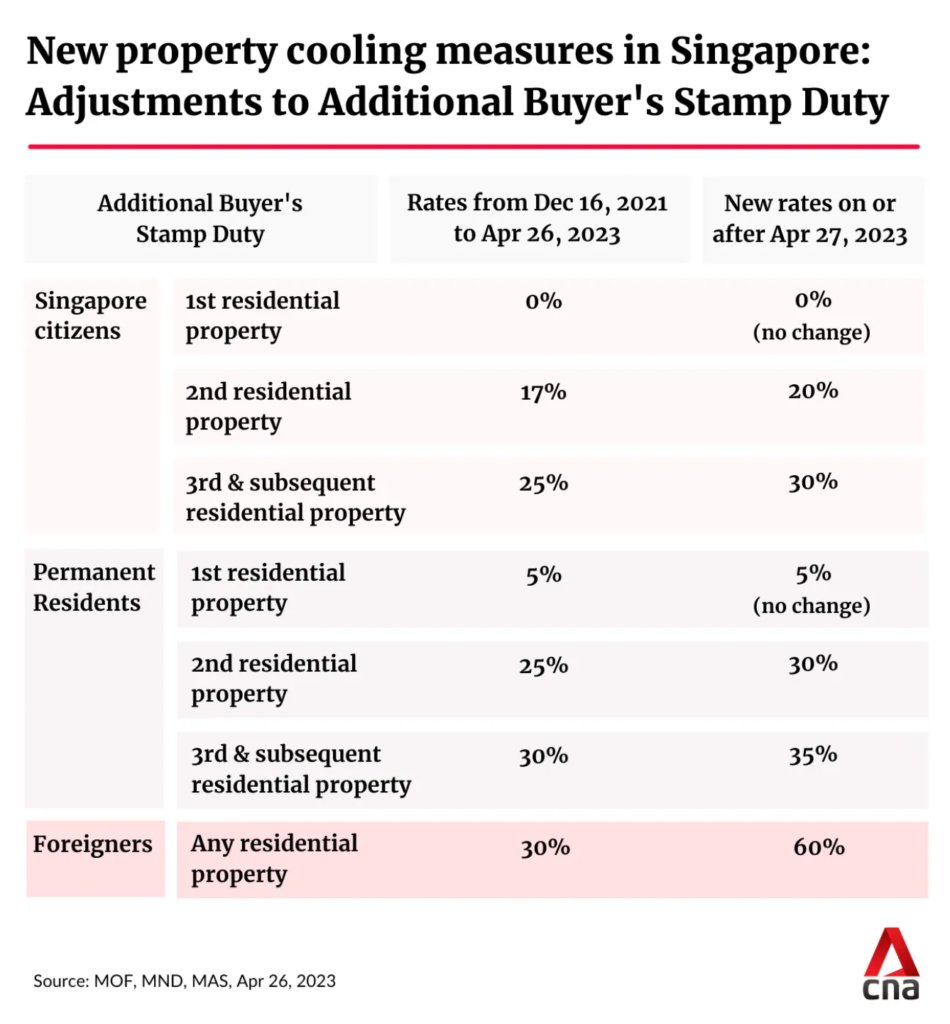 With effect from April 27, Singapore citizens have to pay a 20% ABSD on their second residential property. They now pay 17%.
Citizens have to pay 30% on their third and subsequent property, up from 25% now. A similar rate applies for Singapore PRs buying their second residential property.
The government is also raising the ABSD rate from 30% to 35% for Singapore PRs purchasing their 3rd and subsequent residential property.
Foreign buyers will be hit the most. They are to pay ABSD of 60% instead of an already hefty 30% now.
The ABSD for entities or trusts buying any residential property, except for developers, will be raised from 35% to 65%.
This latest round of cooling measures comes barely half a year after an earlier round last September.
According to the statement, the measures introduced in December 2021 and Sept 2022 have had a "moderating effect".
However, in 1Q2023, property prices showed renewed signs of acceleration amid resilient demand.
The government notes that demand from locals purchasing homes for owner-occupation has been "especially" strong. "There has also been renewed interest from local and foreign investors in our residential property market."
"If left unchecked, prices could run ahead of economic fundamentals, with the risk of a sustained increase in prices relative to incomes," the government says.
Just earlier in the day, MAS released its regular macroeconomic review which paints a rather cloudy picture. The official forecast is for the economy to grow at between 0.5 and 2.5% this year and economists have warned that a technical recession is a possibility.
In the joint statement, the government notes that the supply of private housing on the Confirmed List has been increased to 4,100 units for 1H2023, up from 3,500 units for 2H2022.
For the whole of 2022, a total of 6,300 units had been included in the Confirmed List, as part of the government's land sale programme.
Besides private housing, the government has been ramping up public housing too.
In 2022, more than 23,000 flats were launched and up to the same number will be launched this year — part of the up to 100,000 new flats planned for between 2021 to 2025.
"We will continue to maintain a steady pipeline, to cater to growing housing demand," the government says.
The government acknowledges that the pandemic had caused "severe delays" to both private and public housing projects. Nonetheless, "good progress" has been made, with significant housing supply expected over the next few years.
"The measures above have been calibrated to moderate housing demand while prioritising owner-occupation, and provide sufficient housing supply.
"The Government will continue to adjust our policies as necessary to ensure that they remain relevant, and promote a sustainable property market."