KUALA LUMPUR (Nov 9): It may be one of the largest home-grown real estate agencies in Malaysia and Singapore, but rather than striving to merely be number one, PropNex Realty Sdn Bhd aspires to build a legacy in the real estate business.
According to PropNex Malaysia CEO Marcus Teng, the company aims to nurture an organisation with agents who see the real estate business as a long-term career and not just a tool to make money.
"We are not looking to be the number one in the industry or the best … We are building to last and we would like to pass this on to the next generation," he told EdgeProp.my after the "Meet the Legend" event held here recently. 
The symposium, which drew almost 300 participants, featured PropNex Singapore executive director Kelvin Fong, who shared his insights on "The Untold Truth: Why True Leaders Don't Retire".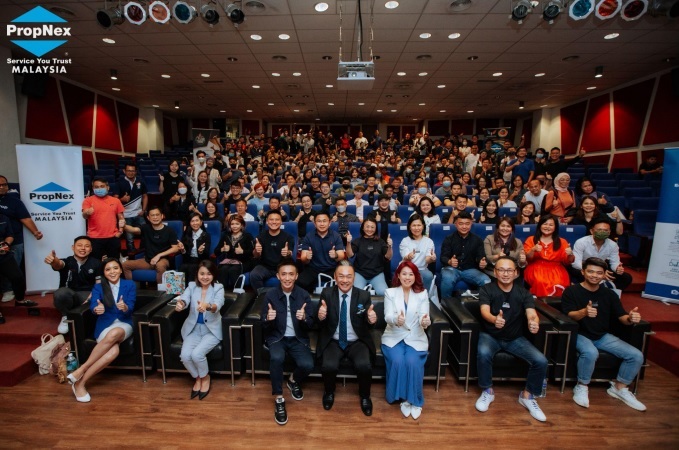 With its headquarters in Petaling Jaya, Selangor, PropNex, which has almost 1,000 agents currently, was established in 2018. It has since expanded to KLCC and Cheras in the central region, Johor in the southern region and Kota Kinabalu in Sabah, while the branches in Sarawak and Penang are upcoming and in the planning respectively.
Teng said PropNex, which signed a collaboration agreement with EdgeProp in April, has the same mission as the property portal, which is to keep adding new value to the current property market.
"With its data, technology, analysis and tools, besides its [property updates] postings, this collaboration will add value for the members of PropNex and also to the industry," he said.
With EdgeProp, he added, PropNex will go another level up and enhance its standard in the market.
Open to sharing even with competitors
Sharing on the talk, Teng said this is the second talk of the year by PropNex and the purpose is for the industry players to meet a leader from whom they can learn about leadership and the real estate career.
"We would like to regularly organise talks like this to benefit the negotiators and agents so that they can learn from people like Kelvin Fong," he said.
Teng added the talk was open to anyone in the industry, and even friends, associates and competitors in the market can attend and benefit from it.
"For these talks, there are four syllabuses of PropNex, which consist of knowledge, skill set, mindset and psychology," he said.
He noted that most people need to be taught to see this as a career.
"We want to encourage them to make this as a career and not as a quick way to make money – as that kind of mindset will bring down the quality of work in the industry and they won't be consistent," Teng pointed out.
During the talk, Fong shared about his lifelong path, his own personal transformation and why leaders do not retire. When you embark on transformation of life for others, it does not have a shelf life as it is continuous in nature.
"When you see the changes in your own or another person's life, you see the value you bring to the table for others … and with transformation, there is no specific timeline in this lifetime of ours," Fong shared.
He said everyone will become complacent at a certain point in life, but we cannot let complacency set in, as everyone has a purpose in life.
He said he finds happiness in building people and eventually see them transform. That has led him to find his purpose as a coach today, who always aims to transform lives that cross his path.
During his talk, Fong shared seven tips in cultivating an effective team – building the right culture; leveraging team work; consistent in adding value; creating a system; never being afraid of competition; daring to make changes; and creating a brand.
"New leaders will try to build a team to gain future passive income, but true leaders build people and they inspire others to be like them," he stated.
He noted that building a lasting team is like a marathon. You need to have passion and know the real purpose. If not, it will not last.