Southeast Asia's premier health-centric township, KL Wellness City (KLWC), is poised to revitalize the healthcare industry. This RM11 billion project spans 26.49 acres, establishing a robust ecosystem devoted to promoting health and wellness.
Encompassing a diverse array of facilities including the Nobel Healthcare Park, KL International Hospital (KLIH), innovation labs, R&D units, healthcare office towers, a retirement resort, a Healthcare Hub, wellness-focused serviced apartments, and a fitness-based Central Park, KLWC will set new standards in healthcare delivery and lifestyle.
KL Wellness City managing director, Datuk Dr Colin Lee, expressed optimism about the project's reception, with over 75% of Phase 1 medical suites sold and a 70% oversubscription for the wellness-centric serviced apartments.
Health Minister Dr Zaliha Mustafa officiated the launch of this ambitious initiative at the KL Wellness City Gallery in Bukit Jalil on June 1. KLWC aspires to be a global leader in medical and wellness development.
"KL Wellness City is at the forefront of Malaysia's drive to become a top medical tourism destination, aligning health and well-being at the core of its design," Dr Lee shared. "This 360-degree wellness hub encompasses all aspects of medical care, health, wellness, fitness, and business, along with residential, retail, and commercial options."
KLWC's strategic positioning will bolster Malaysia's status as a prime medical tourism destination, offering a holistic wellness haven for both domestic and international visitors.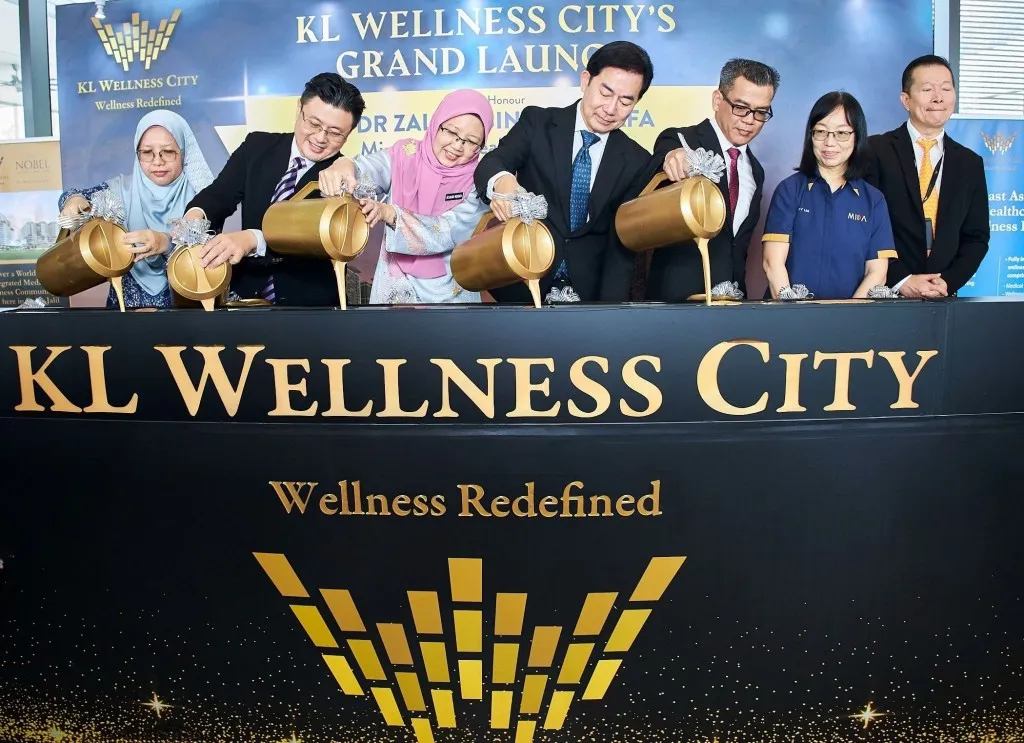 Addressing the needs of an aging nation
With Malaysia's rapidly aging population, which is projected to comprise over 15% of individuals over 65 by 2050, KLWC also targets elderly care. The project aligns with WHO's Universal Health Coverage and Sustainable Development Goals, aiming to provide equal access to healthcare and wellness for all.
"The KL Wellness City master plan includes extensive facilities and residences. It's a substantial move toward acknowledging an ageing nation, providing comprehensive healthcare and wellness services focused on elderly care, retirement resorts, and independent and assisted living," Dr Lee added.
The flagship KL International Hospital (KLIH), designed as a tertiary hospital with a capacity for 624 beds, expandable to 1,000 beds, rivals top institutions like Thailand's Bumrungrad International Hospital and Mount Elizabeth Novena in Singapore.
KL International Hospital will house advanced medical equipment and facilities, some being the first in the Southeast Asia region. The hospital provides a diverse range of healthcare services, including wellness and fitness facilities across various domains such as cardiology, spine health, neuro health, sports medicine, cosmetic surgery, and fertility, supplemented by R&D labs and clinical study facilities.
The Malaysian Investment Development Authority (MIDA) supports the KLIH, which will be constructed within KL Wellness City with an investment of RM860 million. The project, expected to operationalize by the first half of 2026, will create over 3,000 jobs for medical professionals.
Dr Zaliha praised KLWC's dedication to enhancing health and well-being, aligning with the Ministry of Health's whole-of-system approach. "I'm confident that KLIH will draw leading specialists, shorten patient turnaround time, and optimize patient care and experience," she said.
Present at the launch were MIDA deputy chief executive officer Lim Bee Vian, Malaysia Healthcare Travel Council facilitation vice president Norhaslina Othman, KLWC's branding, sales and marketing executive director Datuk Seri Vincent Tiew, project development director Wan Zamri Wan Hassan, and retail, consumerism and construction non-executive director Datuk Seri Garry Chua.