Genting Highlands is poised to become home to the largest Hard Rock Hotel in Asia, with the opening of Hard Rock Genting Highlands scheduled for 2027. This exciting development is part of the King's Park integrated mixed-use development, spanning 150 acres (60.7 hectares) in Genting Highlands.
Hard Rock Genting Highlands is a 45-storey hotel that will feature 371 rooms and 630 suites, bringing the total room and suite count to an impressive 1,001. The hotel will offer an array of amenities, including 200 square meters of retail space known as the "Rock Shop," a heated swimming pool, various dining options, a spa, and a lounge and bar. This landmark project is part of the third phase of the King's Park development.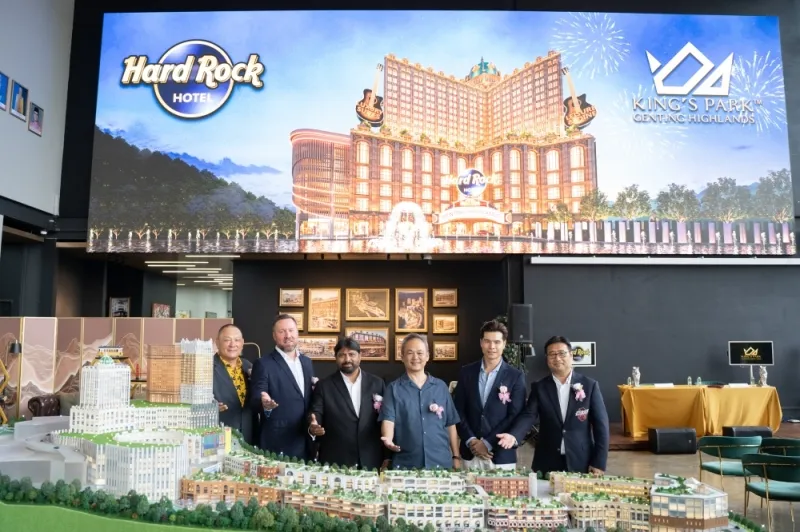 King's Park is a vast endeavor with a gross development value of RM10 billion, encompassing five phases. These phases comprise a mix of residential, commercial, and entertainment components. The master developer of the project, King's Park Development Sdn Bhd, is a partnership between the Yuk Tung Group and the Association for the Promotion of Higher Education in Malaysia (Aphem).
The agreement for the development of Hard Rock Genting Highlands was formally signed by Hard Rock International's Senior Vice President and Head of Global Business Development, Todd Hricko, and HR Resort & Residences Sdn Bhd Chairman, Lim Kim Chai. HR Resort & Residences is the builder and owner of Hard Rock Genting Highlands, while Hard Rock International will operate the hotel.
Witnesses to the signing ceremony included Hard Rock International's Senior Vice President and Head of Asia-Pacific Hotel Business Development, Edward Chan, as well as King's Park Development's Group Chief Executive Officer and Co-founder, Datuk Jayandren Subramaniam, and Executive Vice President, Sean Chen.
Commenting on this significant partnership, Sean Chen stated, "This partnership marks a monumental milestone in the world of hospitality. Our focus is on creating an unforgettable adventure that fuses the best of high-end design with the freewheeling energy of rock 'n' roll. Here at King's Park, the soon-to-be-open Hard Rock Genting Highlands in Malaysia will represent the pinnacle of high-energy fun, luxury, and elegance for solo travelers, groups of friends, and families alike."
Chen also emphasized the positive impact the upcoming Hard Rock Genting Highlands would have on job creation and economic growth, thanks to the Hard Rock brand.
Todd Hricko, representing Hard Rock International, expressed his delight, stating, "We take enormous delight in the fact that King's Park will be home to another iconic property for Hard Rock, holding the distinction of the largest in Asia. This strengthens Hard Rock's position and profile in the area. Our essence lies in developing the exact experiences people seek, and I wholeheartedly believe that King's Park, with its abundant options, would irresistibly lure [people]."
Beyond the hotel, King's Park will witness the development of theme parks, residential properties, medical facilities, and more. The entire development is expected to be completed in approximately 10 years, further enhancing the allure of Genting Highlands as a premier destination.